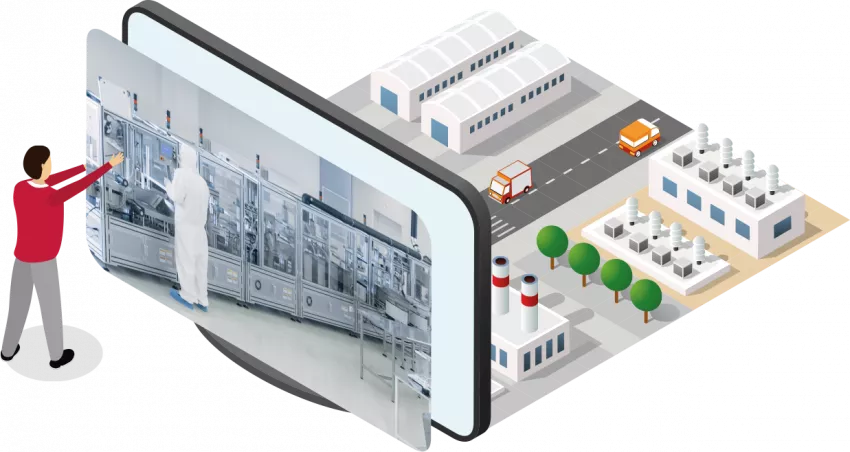 Semiconductor & Solar Cell Industry
Semiconductor Industry
More safety, absolute purity: SCHMITT centrifugal pumps are ideal for etching, rinsing and cleaning processes. They are also suitable for the production of raw silicon.
High purity, safe production
High-purity silicon is the most important basic material for the manufacture of microelectronic components such as ICs, microprocessors and memory chips. SCHMITT pumps are already used here in the production of the raw silicon. They are also used in etching and rinsing processes in the production of wafers made of pulled monocrystalline silicon single crystals.
SCHMITT pumps also reliably convey, circulate and prepare the aggressive liquids required in the further manufacturing process of the microchips for metallizing, developing, etching and cleaning.
The pumps must not contaminate the media to be conveyed. Because absolute purity is simply essential for process stability.
A further area of application in the semiconductor industry: SCHMITT pumps also convey the cleaning fluid from thermal scrubbers with which exhaust gases produced during chip production are cleaned.
Some applications of our centrifugal pumps are:
Production of high purity polysilicon
Cleaning and etching of monocrystalline wafers
Wet chemical processes: Developing, spray etching, immersion etching, rinsing
Supply of used liquids for treatment
Solar cell production
The quality of solar cells depends on maximum purity in production. Here SCHMITT pumps are your reliable partner - through safe and reliable delivery of all media in the manufacturing process.
Because safety and purity count
High-purity silicon is not only the basic material for microchips. It is also the starting material for the production of photovoltaic solar cells. Here, SCHMITT pumps are ideally suited for the production of the raw polysilicon as well as for the production of monocrystalline or polycrystalline wafers. Because they work safely and reliably in etching and rinsing processes.
This also applies to the entire further manufacturing process of crystalline solar cells. Here, our pumps safely convey and circulate aggressive liquids and send them for treatment. Our pumps are therefore suitable for etching, acid or alkaline texturing or for rinsing and cleaning.
SCHMITT pumps are also used in the production of thin-film cells. And in chemical bath deposition. Last but not least, many of our customers also use them to pump the cleaning fluid from thermal scrubbers, which are used to clean exhaust gases produced during the production of thin-film cells.
Important: SCHMITT pumps do not cause any contamination of the pumped media. - This means that a high degree of purity and the first-class quality of the solar cells produced is always guaranteed by us.
Some applications of our centrifugal pumps are:
Wet chemical treatments such as pickling, etching, rinsing etc.
Wafer production
Semiconductor- printed circuit board technology
Clean room technology
Solar cell production