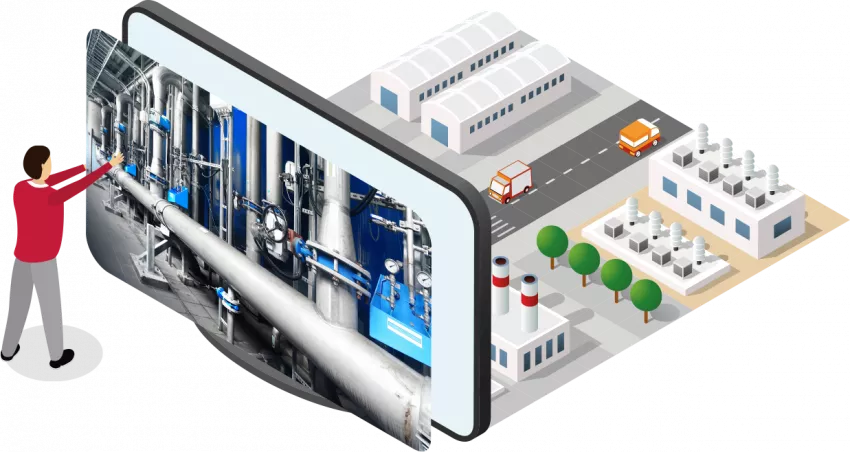 Environmental Technology
Abatement systems
In the purification of exhaust gases, our pumps convince with their chemical resistance in gas scrubbers as well as in wet separators.
For the safe cleaning of gases and Co.
In the most diverse industrial manufacturing and combustion processes, exhaust gases are produced that are contaminated with pollutants. Therefore, these exhaust gases must be cleaned or pollutants neutralized before exhaust gases can be released into the environment. Our customers use gas scrubbers or wet separators for this purpose. This is because they remove chemical and particulate impurities in the exhaust gases from the gas flow with the aid of suitable liquids.
Acids or alkalis are often used in this process. And the collected, contaminated liquid is treated in wastewater treatment plants. A robust pump is required for safe operation. This applies not only to chemical resistance. The pump used must also reliably supply the pressure required for continuous operation of the spray heads. Our pumps do both in many exhaust gas purification systems.
Some applications of our centrifugal pumps are:
Vertical and horizontal gas scrubbers
Wet separator
absorber
Counterflow scrubber
Cross flow scrubber
Neutralization of exhaust gases
Waste water and fresh water treatment
Contaminated waste water and chemicals used to clean waste water must be transported safely. SCHMITT pumps offer all possibilities here in industrial sewage treatment plants, municipal facilities, swimming pools and co.
For the reliable purification of wastewater and Co.
When heavily polluted wastewater is treated, it is not possible without chemicals - which are often corrosive or aggressive. In addition, the waste water itself is often contaminated with undefined substances. These can also be hazardous to the environment or health. This means that the entire technology of the cleaning plant must meet special requirements. - With SCHMITT pumps, you have all the possibilities here in your hand.
One example are municipal sewage treatment plants. In these plants, the wastewater from households is treated with chemical additives to support the cleaning processes. Unpleasant odours are also prevented by chemical additives. And these chemical additives can be safely conveyed by our chemical-resistant pumps.
Our customers rely on the quality of our pumps but also, for example, in industrial waste water treatment plants. There, highly concentrated residual waste water is often heavily contaminated with aggressive substances. And de facto they have to be treated as hazardous waste. It is therefore essential that SCHMITT pumps prevent contamination.
Likewise, our pumps work in plants where industrial waste water is specifically treated before it is released into the sewage system. They also show their strengths when contaminated leachate from landfills is collected, cleaned and the residual water is sent for disposal. Just like in water treatment for swimming pools and wellness pools, where chlorine is added to the water in solid or liquid form.
Some applications of our centrifugal pumps are:
Vacuum evaporator for industrial waste water treatment
Neutralization plants for the neutralization of waste water
Municipal wastewater treatment
Iron-III-Chloride (Fe-III-Chloride) Circulation
Regeneration of ion exchangers by chemicals
Chlorination and circulation in swimming pools and wellness pools