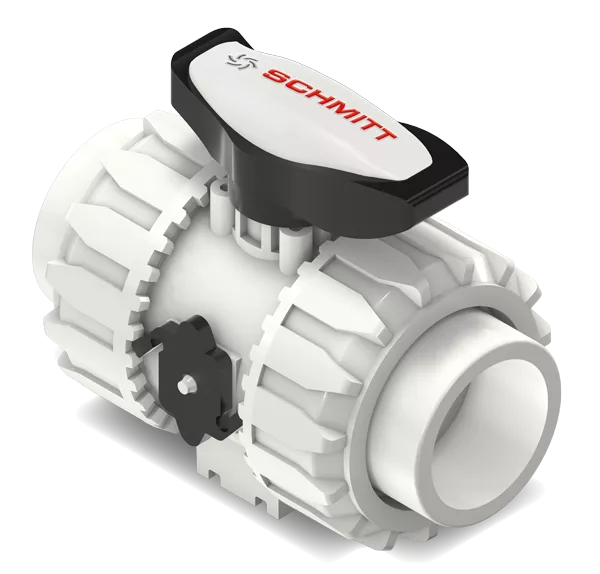 2-Way ball valve
made from PP or PVDF
With the KGH series, SCHMITT offers a 2 way ball valve made of chemical-resistant plastics to complement its pump range, which meets the highest Industrial requirements. Features such as the patented locking device, the two-part ball seat support and a double- sealed spindle also contribute to increase operational safety. more ...
Special features of the 2-Way ball valve
Ergonomic handle with removable valve adjustment tool
Double sealed spindle and double groove connection to the ball for maximum operational safety
Reworked ball with very high surface finish for absolute tightness over the entre duration of use
Integrated Bracket for easy retrofitting to electric or pneumatic drive
Patented locking device to secure the union nut with vibrations of thermal load.
Two-part ball seat support for reduced friction and Increased life of the seals.
Characteristics:
All wet parts made of high-quality, corrosion-resistant plastics (PVDF or PP)
Elastomeres available In FKM and EPDM
Available with welding socket, welding spigot, threaded connections according to ISO 228-1 or flange connections as standard
Equipped with Integrated, injecton-moulded fixings for valve- or pipe fixing
Advantages:
Absolute operational safety even under vibrations or thermal loads due to unique locking device
Increased service Iife of the seals due to two-part ball seat carrier
Extremely high mechanical resistance due to high surface quality, double sealed spindle and double groove connection to the ball
Field of applications
Shut-off and control of acids, alkalis or other corrosive, harmful or toxic liquids.
For example in the following applications:
Plating and surface coating
Semiconductor technology and solar cell production
PCB and electronics manufacturing
Wastewater and fresh water treatment
Laboratory equipment and medical technology
Emission controls and gas scrubbers
Battery production and energy storage
High-purity applications, demineralized water, ultrapure water
All Downloads